Lucknow, or the 'Çity of Nawabs,' is one of India's kindest and most genial cities. If you plan to visit a stunning, majestic, vibrant city, it should undoubtedly be Lucknow. Uttar Pradesh's honored capital proudly cares for its glorious past with an exquisite present. Places like Aminabad, Gol Market, Bhoot Nath Market, and Hazratganj are the most famous places for shopping here. And with Taxi Service in Lucknow, this becomes very easy to ride around. However, traveling is the one thing that requires much strength and money. Also, you can book a cab in Lucknow from Bharat Taxi, which provides a taxi for rent in Lucknow at the most affordable price.
A city with such a long legacy must have an entity that still draws visitors from around the country. For a closer look-in and nearby places of the city, avail the benefits of taxi service at Lucknow and visit Roomi Darwaza, Chota Imambara, and Bada Imambada to witness the design of the medieval era, and Ambedkar Park, Janeshwar Mishra Park, Lohia Park, Nawab Wajid Ali Shah Zoological Garden are among a lot of places to watch and feel the growth of the city from Nawabi era to modern times. Bharat Taxi arranges a taxi for rent in Lucknow facility to these magnificent places.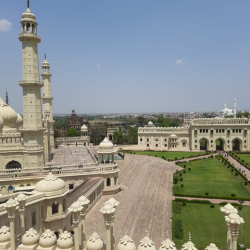 Taxi Service in Lucknow - Why Choose Bharat Taxi?
---
We completely understand all your concerns about your journey and provide you with the best option for cab booking in Lucknow at an affordable rate. Lucknow is a complete recess destination; thus, having a reliable mode of transportation is necessary. Bharat Taxi's cab hire in Lucknow will never disappoint you due to its wide range of services. Let's see why you can choose us: -
Professional Drivers: Bharat Taxi hires only well-behaved drivers. The drivers for the Lucknow cab service are chosen after a 30-point checklist and must be fluent in both the native language and English. As a result, the drivers are knowledgeable about the routes and all of Lucknow's tourist attractions.
Quick Responsive Service: Bharat Taxi is responsive because addressing your issues and doubts is our top priority, and we promptly respond to your questions. You can contact us by phone or email; one of our representatives will reply soon.
Multiple Bookings: You can reserve a cab in Lucknow at any moment. Because we understand your position, you can book a taxi to Lucknow any time and for any number of days.
Easy Taxi Booking: Bharat Taxi's website is incredibly user-friendly, and anyone of any age can quickly examine it. You may book a cab service Lucknow using the online web platform in three simple steps. In addition, you can easily book a taxi in Lucknow by phone or email.
Safe and Trustworthy: Bharat Taxi's taxi service in Lucknow is safe and reliable. We provide you with the most fabulous cab rental in Lucknow and the most reliable chauffeurs. Our clients' security and safety are essential to us; thus, our helpline number, 9696-000-999 or +7607003240, is available 24 hours a day, seven days a week, to answer any questions you may have.
Affordable Cabs in Lucknow - Book a Taxi for a Local Ride
---
Traveling often costs our pocket. And, if it exceeds our budget, it could spoil our mood and further plans. Multiple changes in our means of traveling sources are also reasons for facing a cash crunch. The best key would be to use the taxi service at Lucknow from Bharat Taxi to avoid such a situation. You will get multiple packages for local and outstation trips in Lucknow at the most reasonable price. Our transparent billing system and cab services in Lucknow have earned us an excellent service track record, encouraging us to give our best service throughout your journey.
| | | | |
| --- | --- | --- | --- |
| Taxi/Cab | Rate/KM | Min. KM | Exclusion |
| Swift Dzire | 11/- | 200KM | Tax & Parking |
| Toyota Innova | 15.5/- | 200KM | Tax & Parking |
| Innova Crysta | 17/- | 200KM | Tax & Parking |
Touring needs tons of zeal and the belief to discover different flavors, and Lucknow is the right place to visit without any hassle with cabs in Lucknow. To explore this beauty, hiring a taxi to Lucknow seems like the best option to walk around the bits and bytes of this city. With online cab booking in Lucknow, we at Bharat Taxi are committed to providing cost-effective taxi service to our customers for the best feel in traveling.
What to Visit by a Local Taxi in Lucknow
If riding by a Lucknow taxi rental, you can explore a variety of points with us. Let's see about some of the best places to visit in Lucknow by Taxi: -
Bara Imambara: The historical site, Bara Imambara, is a large complex that includes the Asfi Mosque, the Bhul-Bhulaiya, and a Bowli. The complex's Bowli (or maze) is the most popular attraction. Cab rental in Lucknow make it easy to explore during the visit of this Nawabi city.
Lucknow Zoo: The Nawab Wajid Ali Shah Zoological Garden is often known as the Lucknow Zoo. This is because it's a great spot to enjoy the natural beauty while still in the city. Moreover, the zoo, out of all the unique tourist attractions in Lucknow, will assist you in discovering a superb natural climate.
Ambedkar Park: Dr. B. R. Ambedkar Memorial Park is a public space and memorial dedicated to him. The park, which spans 107 acres and contains monuments built of red sandstone from Rajasthan, is one of Lucknow's most popular tourist attractions. Ambedkar's stupa, a Sangrahalay, a photo gallery, Pratibimb Sthal, and the Drashya Sthal are landmarks.
The Residency: A Residency is a residential complex from the Nawab era with multiple buildings. The residency was built during the reign of Nawab Saadat Ali Khan II and was destroyed during the siege of Lucknow in 1857. The cannon shots and splintered walls convey the story of conflict, even if it is now in ruins.
Lucknow Museum: One of the best sites to visit in Lucknow is the Lucknow Museum. The four-story Lucknow state museum houses some of the country's best stone-age exhibitions, exhibits, and galleries, including Jain art, sculptures, archaeology, Nawabs, and old coins. Cab service Lucknow is available 24x7 for local rides in the city.
Jama Masjid: A trip to Lucknow would be incomplete without stopping at the iconic Jama Masjid. How else will you discover more about the city's culture, which has become increasingly dominant over time? Take, for example, this architectural marvel from the 15th century, which features gleaming white sandstone writing on its walls, lovely minarets, and picture-perfect domes.
Science City: Regional Science City is an excellent place for kids and students to hang out. Region Science City is a beautiful complex founded in 1989 by the National Council of Science Museums. Its goal is to raise scientific awareness and provide formal science education to schools and the general public. This popular tourist attraction in Lucknow covers a 10-acre plot of land and features fascinating exhibits exhibiting various scientific topics. Book local taxi service in Lucknow
Cab Service in Lucknow - How to Book Your Ride?
---
Bharat Taxi provides various options for booking a cab service in Lucknow. Here are a few tips to make getting a cab in Lucknow a breeze.
On Call: You cab book taxi service in Lucknow by reach out to us at +91 9696000999 or +91 7607003240 to book a taxi to Lucknow.
Book a Taxi in Lucknow Online: You can quickly book an online taxi service in Lucknow at www.bharattaxi.com. You can provide essential information about your trip, including the pick-up date, time, and location. Now, you will see all of the available packages.
Sending an Email: Bharat Taxi provides Lucknow taxi services throughout India. You can rent a cab in Lucknow by emailing us at info@bharattaxi.com with your contact information and some facts about your journey.
Read More: Lucknow Taxi Packages
How Long Can You Book a Taxi Service in Lucknow from Bharat Taxi?
---
While booking a taxi in Lucknow, whether local or outstation, a common question that can arise in your mind is for how long you have the cab on rent with you. Bharat Taxi always promises its customers and never leaves them despairing to resolve this issue. You have the cab service in Lucknow until you don't reach your booked destination. We care for your time and comfort. So, we provide you with the best available Taxi in Lucknow at the lowest price in the minimum time.
Taxi for the Top Routes from Lucknow
---
As one of India's most visited cities, a taxi ride to Lucknow from anywhere in the country is simple. By road, Lucknow has an excellent connection to the rest of India. Moreover, Lucknow has a thriving link by road to the country's major cities. And, outstation Taxi offers hassle-free cab services from Lucknow to Agra, Delhi, Corbett National Park, Gorakhpur, Kanpur, Varanasi, Patna, Khajuraho, Indore, etc.
Related - Places to Visit Near Lucknow Within 500 KM
Let's see some of them: -
Lucknow to Kanpur
Bharat Taxi strives to exceed its customers' expectations by delivering excellent cab service and developing innovative travel solutions tailored to their specific road trips and travel needs. As a result, we provide our valued customers and clients with the loveliest travel memories possible. You will get various taxi services from Lucknow to Kanpur to make your trip effortless and affordable.
Our Top Indian Cities Where You Can also Get Affordable Taxi Fare: -
If you want to ride in other cities except Lucknow, you can book a Lucknow taxi service from Bharat Taxi. With affordable fares and the best deals, we offer 24x7 cab services in India. Let's see the list of cities taxi in India from Bharat Taxi: -
Agra Taxi | Ahmedabad Taxi | Aligarh Taxi | Allahabad Taxi | Alwar Taxi | Ambala Taxi | Amritsar Taxi | Asansol Taxi | Bangalore Taxi | Bareilly Taxi | Bhopal Taxi | Bhubaneswar Taxi | Bhuj Taxi | Bilaspur Taxi | Bodhgaya Taxi | Bokaro Taxi | Chandigarh Taxi | Chennai Taxi | Coimbatore Taxi | Darjeeling Taxi | Dehradun Taxi | Delhi Taxi | Digha Taxi | Gangtok Taxi | Gaya Taxi | Goa Taxi | Gorakhpur Taxi | Gurgaon Taxi | Guwahati Taxi | Gwalior Taxi | Haridwar Taxi | Howrah Taxi | Hyderabad Taxi | Indore Taxi | Jaipur Taxi | Jalandhar Taxi | Jamshedpur Taxi | Jhansi Taxi | Kanpur Taxi | Kanyakumari Taxi | Kochi Taxi | Kolkata Taxi | Leh Taxi | Lonavala Taxi | Ludhiana Taxi | Madurai Taxi | Mangalore Taxi | Mathura Taxi | Meerut Taxi | Mount Abu Taxi | Mumbai Taxi | Mussoorie Taxi | Mysore Taxi | Nagpur Taxi | Nainital Taxi | Nashik Taxi | Noida Taxi | Ooty Taxi | Panipat Taxi | Patna Taxi | Porbandar Taxi | Port Blair Taxi | Pune Taxi | Puri Taxi | Raebareli Taxi | Raipur Taxi | Rajkot Taxi | Rameswaram Taxi | Ranchi Taxi | Rishikesh Taxi | Satna Taxi | Shimla Taxi | Siliguri Taxi | Sonipat Taxi | Srinagar Taxi | Surat Taxi | Ujjain Taxi | Vadodara Taxi | Vapi Taxi | Varanasi Taxi | Vijayawada Taxi
Last Updated: 26 October, 2023